The Arts and Business Council's Defining Innovation Speaker Series has brought countless thought leaders in technology, innovation, and design to Philadelphia in 2019. The latest addition to their impressive roster was Cliff Kuang, an award-winning journalist, user experience designer, and former Head of Digital Product for Fast Company.
Our Co-Founder and Chief Innovation Officer Mike Gadsby was invited to participate in a panel discussion with Kuang. A lot of material was covered during the morning, but there were three main points we took away from the inspiring discussion.
NOTE: All images by Chris Kendig Photography®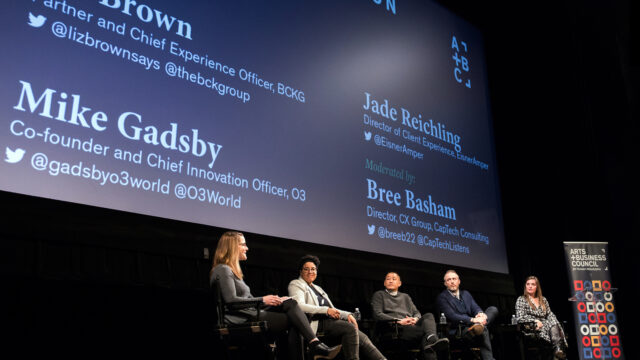 Leadership Drives Innovation, Not Technology
It's easy to assume that new technology will automatically improve processes and innovate companies, but that typically isn't the case. In order for businesses to truly innovate, they need to have leaders that are willing to experiment and explore.
New technology can lead to better outcomes for businesses, but it'll take effective leadership to advocate for innovation and put processes in place to ensure that technology is utilized in the right way.
Communities are Important
The panel discussion portion of the morning delved into a lot of topics. Diversity and inclusion were big talking points that tied back to the theme of community.
Having a strong tech and user experience community can help individuals and businesses. The right people can help you grow, discover new skills, and could even bring a new perspective to important work.
Philadelphia's tech community is tight-knit, and O3 World is proud to play a significant role in it. Whether it's through hosting events, sharing knowledge, or just being willing to make connections, playing a role in your professional community is essential.
Small Changes Have Big Impacts
Innovation usually doesn't start with a big, sweeping change. More often than not, the smallest tweaks to processes and products can have a significant impact. Kuang illustrated this phenomenon with an interesting example: fighter planes in WWII.
Accidental deaths and crashes were a problem at the beginning of the war. An Air Force psychologist named Alphonse Chapanis suggested that simple changes to levers and buttons in the cockpit could drastically reduce problems typically attributed to pilot error.
He made the decision to use small distinct shapes to mark certain important features like landing gear and wing controls in the cockpit. That small change made a big difference for pilots, and suddenly accidents and deaths that were attributed to pilot errors drastically decreased.
In fact, the impact was so strong it influenced a lot of the ways we interact with the modern world. Chapanis' methods are the reason why buttons on video game controllers are shaped differently. The symbols on buttons and dials in your car were influenced by Chapanis' methods, and the same goes for the layout of buttons and apps on your smartphone.
Up Next
Mike Gadsby was featured on the panel for this discussion, but he'll be giving his own talk at a different event in early 2020. We're hosting another Design Brew event on Wednesday, January 22nd. Mike will be talking about automation, AI, and the future of CX. Be sure to RSVP and secure your spot now!
About O3
Since 2005, our team has been pushing the boundaries of innovation with its deep understanding of the current and emerging digital ecosystem. Learn more about us, our work or innovation at O3.