We are thrilled to announce that O3's 2023 Innovation Day is back and better than ever, now aligned with Philly Tech Week. This event offers a unique opportunity to learn and grow in the innovation space.
This year's focus is on generative AI and its impact on various industries. We are honored to have O3 experts Mike Gadsby and Josh Friedman sit down with distinguished guest, ChatGPT. Mike and Josh will showcase the capabilities of generative AI and its potential integration across industries.
Don't miss out on this immersive and interactive experience that delves into cutting-edge AI language technology. Through hands-on activities, you'll gain a deeper understanding of how AI language technology is revolutionizing the way we communicate and interact with machines.
Agenda
9:30 AM ET
AI Tools for Product Design and Development: presented by Delve
Industrial Design: Chris Murray or Tom Murray
Mechanical Engineering: Aaron Pavkov
Electrical Engineering: Dan Marcq or Dan Brotman
10:10 AM ET
Future of Writing Healthcare Content with AI: presented by Grafi AI
Sean Sodha
10:40 AM ET
Keynote O3 presentation: Conversing with the Future: An interactive ChatGPT Experience
Josh Friedman and Mike Gadsby
Where?
O3 headquarters (1339 Frankford Ave, Suite 3, Philadelphia, PA 19125)
When?
May 8, 9:30 – 11:30 AM ET
Parking
Street parking in Fishtown can be limited. A public parking lot is located just two blocks from O3 headquarters at 1334 N Front St, Philadelphia, PA 19122.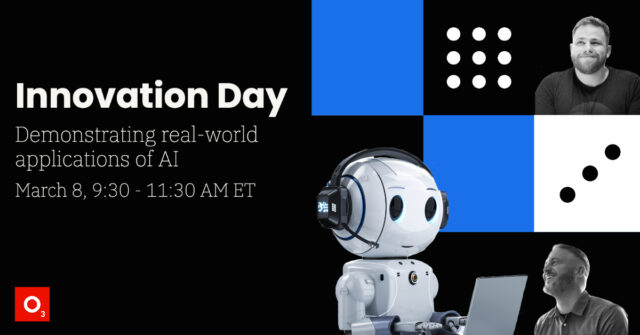 We look forward to welcoming you to O3 on Innovation Day, as we explore the power and potential of generative AI with industry experts.
About O3
Since 2005, our team has been pushing the boundaries of innovation with its deep understanding of the current and emerging digital ecosystem. Learn more about us, our work or innovation at O3.