1682 was the event we were hoping for. It had deep, thoghtful content about the real frustrations and challenges in innovation that leaders typically aren't allowed to talk about outside of their organization.
It was the perfect environment for attendees to connect with one another. People commented that everyone they spoke to was extremely accomplished, kind, and interesting. And of course, it was at the Barnes, which is one of the most inspiring destinations in the city.
We've gotten a lot of feedback about the conference (in fact, you'll see some quotes we received from attendees throughout the post). In the spirit of demystifying innovative practices, we wanted to pull back the curtain on how we planned 1682.
Here's some insight into what made this event a success.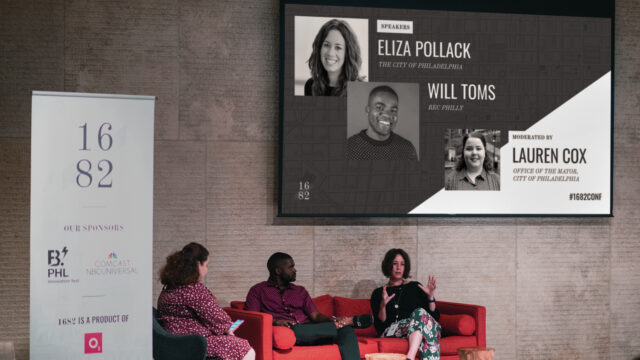 Curate Your Guest List
We had a very specific invite list and targeted marketing for individuals, which helped create thoughtful conversations and connections outside of the sessions. It helped make the event into a truly great networking opportunity.
Each of the invitees received a printed invitation with a wax seal to showcase the exclusivity and high touch nature of the event. We chose a location that was small and intimate with only 140 total attendees, moderators, and speakers. The small crowd made it easier to talk to people and move around the venue.
"Just wanted to reach out and say that I was really impressed with 1682. Great content, format, people, and venue. Thanks for putting it on."
Move Beyond the Typical One-Person Presentation Format
Sitting and listening to one person talk can be draining and makes it easier for people to "zone out." It also makes it easy to turn the "presentation" into a humble brag where speakers just talk about how great/innovative/unique they are. Different discussion formats kept the day fresh and the attendees engaged.
We had some brief 10-minute presentations, moderated Q&A sessions, and even lightning round pitches from startups. Having moderators that were as accomplished as the speakers helped turn the "talks" into actual "discussions."
"It was great to see the diversity of panelists. I think we can often get a bit myopic in our sector, so having the representation across various industries was really illuminating for me as we think about how to grow the innovation ecosystem at my organization. It was helpful to see best practices and challenges from other industries."
Put Thought into Your Venue
The Barnes Foundation is one of the most famous museums in Philadelphia. We couldn't think of a better and more unique venue for 1682.
Everyone had the ability to tour the collection during a 40-minute break we scheduled into the day. Guests were inspired by the art, and it encouraged different conversations and connections with attendees about different subjects.
The museum itself, including the theater where the presentations were, was intimate and beautiful. It provided a much warmer, welcoming, and unique environment than a typical convention center. Also, the food was top notch. Our attendees paid premium money to come to 1682, we wanted to make sure everyone was well-fed!
"The venue was AMAZING. I must sadly admit that it was my first trip to the Barnes, but it won't be my last"
Make it Easy to Participate
We used Poll Everywhere to give people a simple, no-pressure way to participate through text messages. The tool gave attendees time to think about what they wanted to say. It also didn't put anyone on the spot to stand up and speak to the audience.
We had a significant amount of audience participation. There were so many questions moderators couldn't get through all of them!
Attendees were truly engaged in presentations and talks throughout the day. They weren't glued to their laptops and focused on work, they were entirely present for the conference.
"I have to say I've never been to an event quite like 1682. Lots of very candid and open conversations. Really interesting."
Carefully Curated Sponsors Make All the Difference
Some conference organizers will take whatever sponsors they can get for their event. We reached out to specific companies (B. PHL and Comcast) that made sense for the event. It created a mutually beneficial set up for everyone involved and helped add to the curated feel of the day.
Some people may shy away from reaching out to a "competing" event, but we encourage it! Since the B. PHL innovation festival heavily appeals to the 1682 audience, it made sense for them to have a presence during our conference.
Not only is Comcast known for innovation, but they also have Lift Labs, which incubates and accelerates innovation through startups. Additionally, they provided a moderator that was a perfect fit for one of our talks.
"The event was extremely impressive. Your work paid off. Everyone I talked to had amazing feedback. I'm so glad I got the opportunity to go!"
Find Other Ways to Showcase Your Theme
We previously mentioned that we wanted to use different kinds of discussions during the day to keep audiences engaged. Along with different discussion formats, we also thought about other ways to tie innovation into 1682.
To honor the spirit of innovation, we thought it would be a great idea to help connect local startups to our curated audience. That led us to create the Venture Awards.
At the end of the conference, three startups (Strella Biotechnology, InstaHub, and Kidas) in the Philadelphia region pitched their business ideas to our audience. After a quick round of Q&A, they voted on the idea they liked the most and the winner received $5,000.
1682 was also the perfect opportunity to publicly announce our newest business project, Ozone Ventures. We even found a way to include key people from our Venture projects in programming for the day.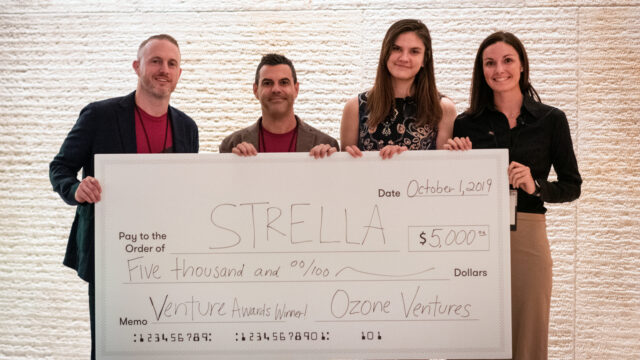 Think Differently
Overall, 1682 was a rousing success. If there's one main takeaway from the conference, it's that it's important to think differently and to not fear something new. In the true spirit of innovation, we wanted to create a unique conference experience for our guests and we succeeded. We learned what worked and what didn't, and now we're ready to create even more events and experiences in the future.
About O3
Since 2005, our team has been pushing the boundaries of innovation with its deep understanding of the current and emerging digital ecosystem. Learn more about us, our work or innovation at O3.