Background
gettacar is a new, online auto dealer with a focus on making the car buying and financing experience quick and painless. As an ambitious startup, their co-founders were hyper-focused on making smart, MVP decisions with a long term focus on scalability. In addition to embracing their waggish brand experience, they required end-to-end consideration from their shopping and application approval UX to their technical architecture and back-office processing needs.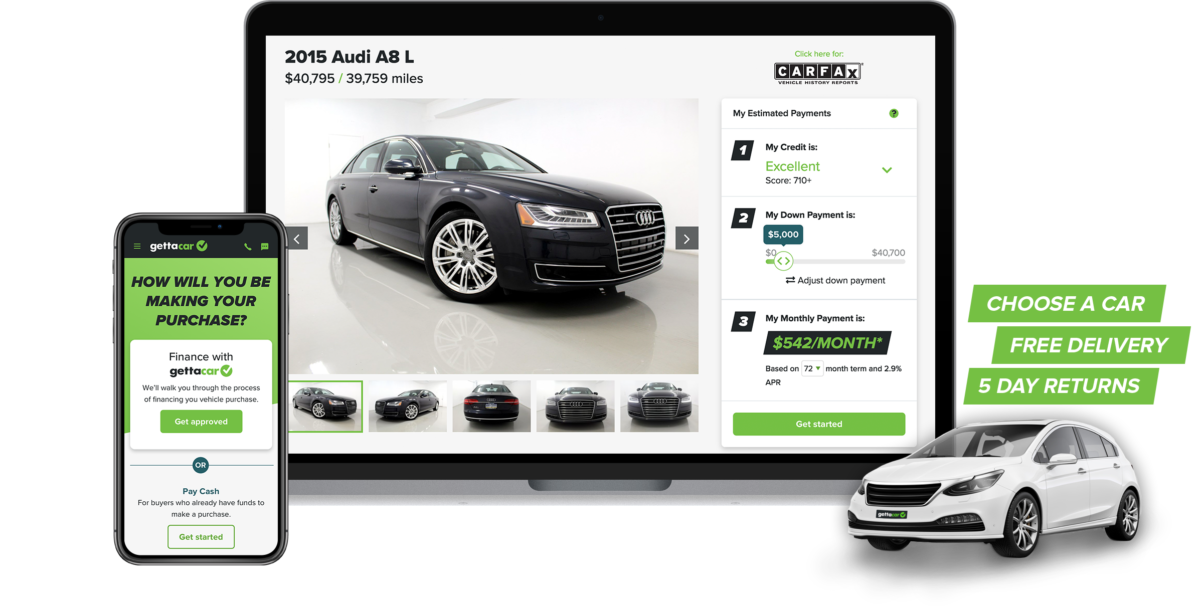 What We Did
Driving Home MVP
As a startup with big aspirations, it was necessary that we balanced valuable feature considerations with speed to market. While we wanted to deliver on a flawless user experience where the buyer could quickly shop and apply to purchase, the brand and value proposition needed to come to life as well. We collaborated closely with gettacar stakeholders to make smart decisions on nice-to-haves vs. need-to-haves. The result is a user experience that drives sales and technical architecture fit for regular product enhancements.
7K+ Number of applications for cars in the first 90 days
20%+ Average increase in completed applications MoM since launch
76% Improvement in application progress to user studies and UX optimizations
The Details
Understanding the Market in a Crowded Lot
The online car shopping market is a pretty crowded space. Since our deadline to launch was tight, we had to take an MVP approach to understand the landscape so we could clearly differentiate quickly. Quick user testing processes and tight collaboration allowed us all to make informed, critical feature decisions on the fly.
Mobile First
Since 90% of gettacar's interactions occur via mobile devices, it was important that we focused all of our decisions on the mobile experience. Simple interactions and touch specific features were critical to the success in the buyer journey.
Business in the Front, Party in the Back
As with all of the work we do, a full consideration of the complete buyer experience required examination of the administrative experience as well. From processing applications to delivering the customer's new ride, we help to design, measure and optimize the gettacar service.
Engineering for Scale
From day one, we recognized that the technical solution would need to quickly scale and that the experience would evolve. We created a technical architecture that allowed for speedy iterations and embraced a growing team.
In Their Own Words

"Never going to the dealership again. This is the easiest way to buy a car. "