Background
La Colombe has set the precedent for America's artisanal coffee revolution for both in-cafe and at-home experiences with its proprietary, globally sourced blends. Its in-store experience and wholesale products make for an overall outstanding brand experience that needs to be translated into the digital space. Just as every sip of coffee has a certain fantastic aroma and flavor, so to must its digital experience express a similar quality.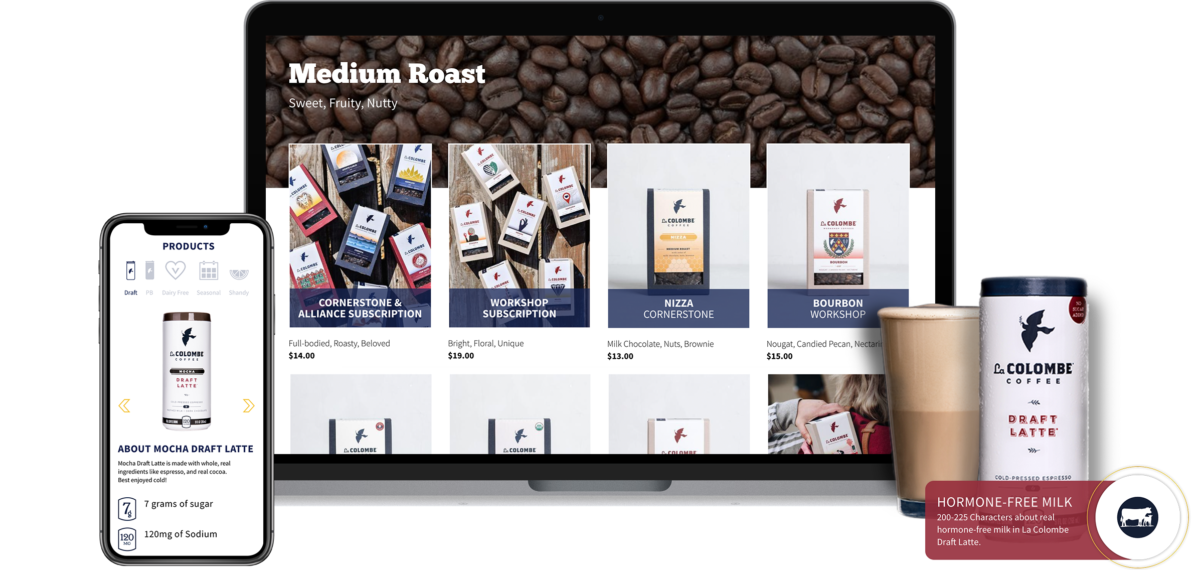 What We Did
Outfitting America's Obsession with Coffee
We designed and developed a multi-channel digital commerce experience to bring La Colombe into many more American homes. Since 2014, we've led La Colombe's online strategy, from new product launches and increasing its online customer base to developing tech solutions for its digital business. We continually conduct user research and offer new concepts that leverage experience and emerging tech to expand La Colombe's digital platform.
81% Increase in conversation rate within the draft latte campaign page
9% Increase in average order value, as a result of the implementation of related products
2.5X Increase in conversion rate from users who interacted with an optimized navigation
The Details
Investigative, In-Depth Research
Over time, we've established a close working relationship, making it a point to meet in their coffee shop next to our own offices. The best path to learning about La Colombe as a brand and an operation was to spend time in their cafes, drink their coffee, and talk to their customers.
A Personal Experience
Coffee is a personal experience, and we wanted to make sure that designs were focused on simplifying the process of browsing and buying, while also enticing customers to come back for more.
The Coffee Lab
We're continually pitching La Colombe concepts to improve and capitalize on the coffee experience. This includes everything from a digital barista to a coffee expert chatbot.