Background
Crane Connectivity Solutions creates software that gives vending operators complete visibility of their vending machine operations. Their core product leverages a predictive algorithm to manage and make recommendations on driver schedules and routes along with individual product and service needs. The complexity of managing all this in one interface required an elegant solution to manage driver dispatch and inventory.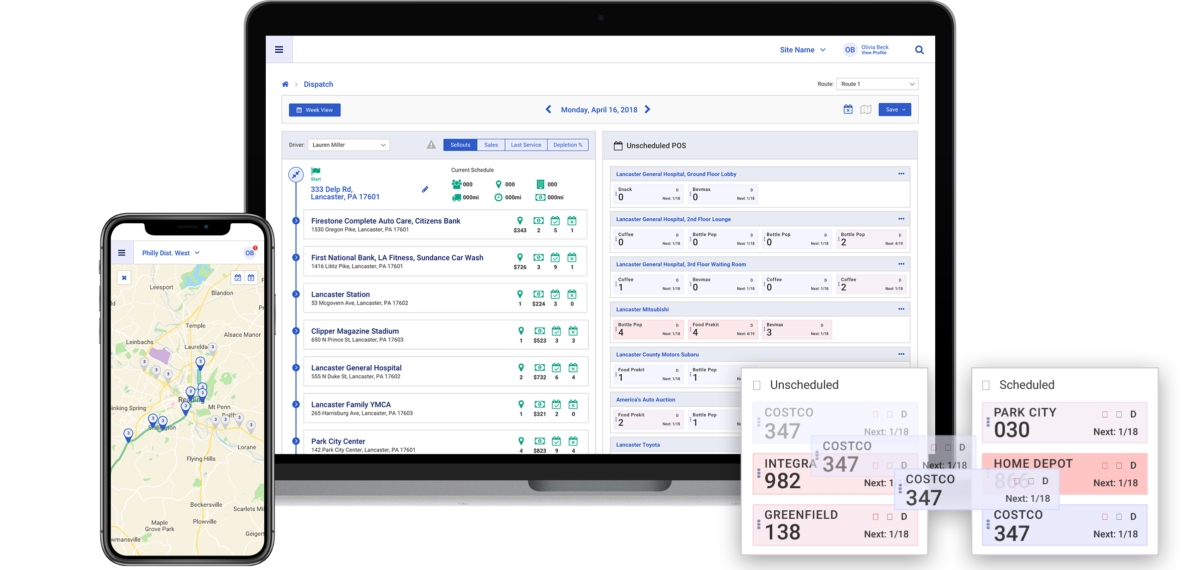 What We Did
Dishing Out Big Change
We partnered closely with the Crane product and development teams to understand the business and end-customer needs in order to create a solution that provided a more dynamic, simplified experience for their driver dispatch and inventory systems. From a deep dive into vending industry knowledge and workshopping initial concepts to creating the user interface, we developed a working relationship that allowed us to design, test and iterate quickly.
6 Days from sketches to prototype
30 Iterations over 90 days
11 Number of testing participants
The Details
Rough Ideas & Regular Cadence
Rome wasn't built in a day. By starting with rough ideas and reviewing concepts daily, we were able to quickly move from initial ideas through functional and usability requirements to final design comps.
Dynamic & Easy to Use
While the user stories required a complex set of interactions and end-user considerations, we developed an interface that was easy to comprehend and quickly consumable for the intended audience.
Test, Refine, Repeat
Given the complexity of the experience, it was necessary to get concepts in front of users early and often. As we refined the concept, we tested key friction points to determine areas to optimize further.
IN THEIR OWN WORDS

" It was a pleasure working with the O3 team, and I really appreciate all of your great work. I would not hesitate to recommend you guys."